Reef Octopus - excellent service!
I've owned a Super Reef Octopus XP1000sss protein skimmer for about two and a half years now. I use it to filter organics from my 75 gallon reef tank. It has worked very well, and I'm pleased with how healthy it has kept my tank.
However, about a week ago the Bubble Blaster HY 1000s pump in the base of the skimmer stopped working. The needle-wheel impeller simply stopped turning. Thanks to the fact that this pump has a controller in it to sense and deal with problems, no disasters resulted.
I pulled the pump out and examined the impeller carefully. It looked like there were some cracks in the impeller shaft that had allowed saltwater ingress into the magnets sealed inside the impeller body. As a result, the magnets corroded and the impeller body expanded to the point where it was dragging on the pump body and would not turn.
Here's a picture of the impeller - the swelling measured just over 1 mm.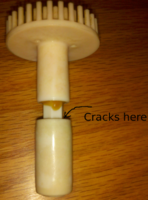 New pumps are expensive, so I checked the warranty period on my pump. It was still under warranty, so I contacted Jeremy at Coralvue to see about getting a replacement impeller. He replied to my email very promptly, and after getting some information about my pump, he dropped a new impeller in the mail to me. Needless to say, I was very pleased!
SRO skimmers work very well, and my experience with Coralvue's customer service when I needed it was also great. I highly recommend this brand of skimmer.